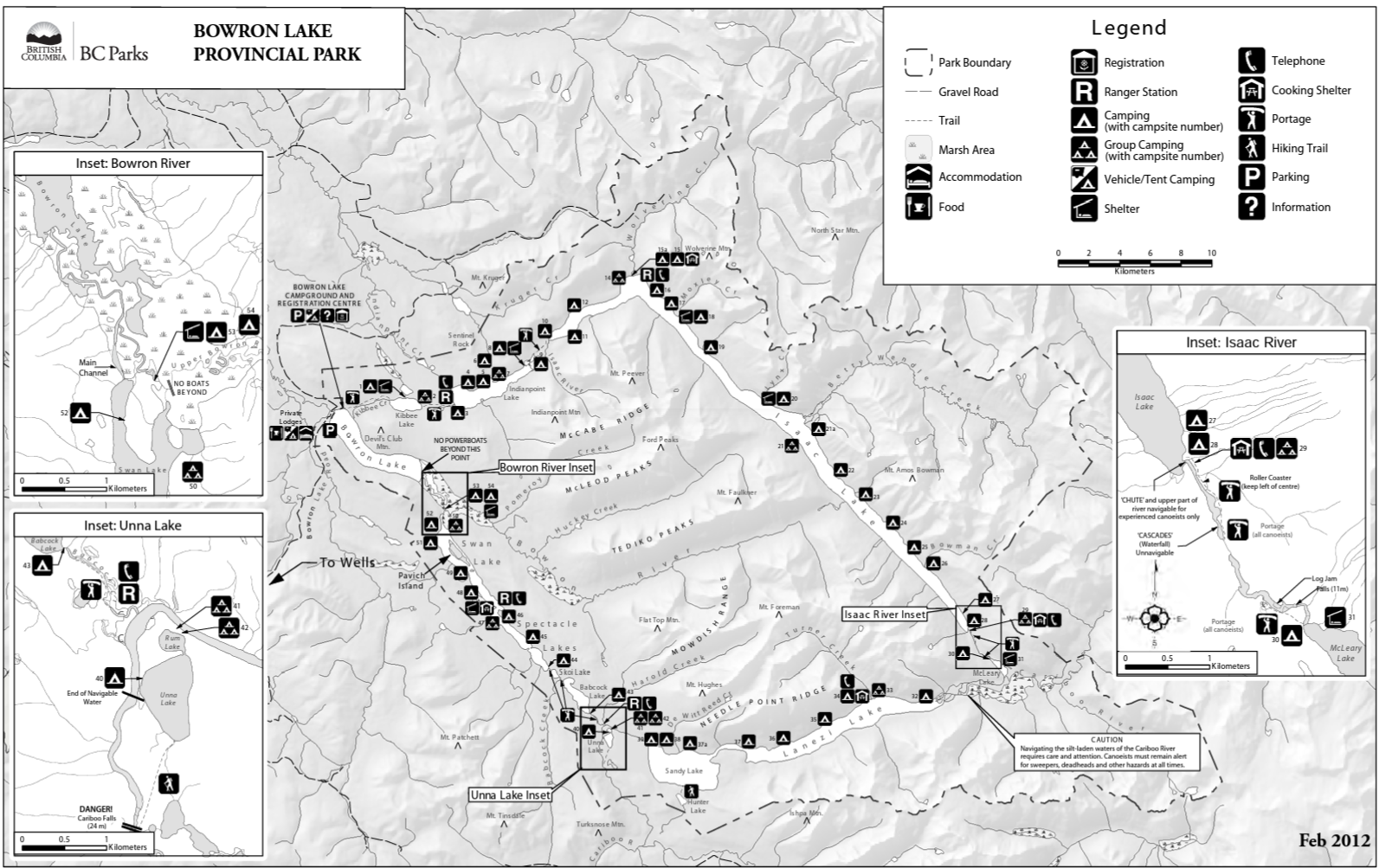 Bowron Lakes Canoeing
from CAD $2365
Besides its natural beauty, the Bowron Lakes are a wildlife sanctuary. Paddlers may see beavers, bears, otters, and moose feeding by the waterways.The Bowron River estuary is a birdwatcher's paradise with an immense variety of bird life, including coots, mergansers, widgeon, mallards and Canadian geese. Campsites along the Bowron Lakes, set aside for our sole use, ensure the solitude so necessary for a meaningful wilderness experience.
Itinerary
Day 1

Pick up and travel to Bowron Lakes Provincial Park

Day 0: Arrival in Vancouver.

Day 1 – Transportation from Vancouver to Bowron Lakes, in our 15 passenger van. Pick-up is on the North Shore of Vancouver, early! Our campsite is at Bear River Mercantile (in the cabins). We will use the evening [dependent on our arrival time] to prepare for the next morning.

Day 2

To Kruger Bay

You'll be wondering whether this is indeed a canoeing expedition as the two longest portages along the circuit are today. The portages are made easier by the use of specially designed carts which allow canoes and a some equipment to be wheeled between lakes. The first portage is to Kibbee Lake. Kibbee Lake is a short lake, only 2.4 km long. Just the ideal length to begin to work on technique and acclimatizing muscles. Our second portage (2 km) will take us to Indianpoint Lake. A short paddle will bring us to our campsite at Kruger Bay.

Day 3

To Wolverine Bay

From Kruger Bay, Indianpoint Lake narrows and our route wanders through a small marsh. Beaver dams and lodges dot the area. The Isaac Lake portage (1.6 km) brings us to Isaac Lake, the longest lake on the circuit. Some of the most breathtaking alpine scenery is located along Isaac and Lanezi lakes. Our campsite is Wolverine Bay ..

Day 4

To Isaac Lake

Isaac Lake is notorious for its winds and sudden squalls. We will get an early start to take advantage of the morning calm. This will be a day to enjoy the surrounding grandeur and absence of any portages. We will stop to see the cabin at Moxley Creek and take in some of the earlier "artwork" of circuit paddlers. We will camp along Isaac.

Day 5

To the head of Isaac River

Once again we will get an early start to take advantage of the calm. Our paddle continues amidst the surrounding peaks and ridges to our destination at the end of Isaac Lake. This will be a short day. Weather and conditions cooperating, we will have time to play in the fast water of Isaac River.

Day 6

To Turner Creek

It's portage time again. The Isaac River connects Isaac Lake with McLeary Lake. After about a 1.6 km portage we will put in on Isaac River and cross over to the other side and continue portaging (1.2 km) to McLeary Lake. Along this stretch we will hike off the path to view Isaac Falls. McLeary Lake is but a backwater formed by the confluence of the Isaac and Cariboo rivers. Having paddled McLeary we will enter the Cariboo River for a winding (5.2 km) ride into Lanezi Lake. Our campsite is at Turner Creek.

Day 7

To Unna Lake and Cariboo Falls

Our paddle on Lanezi Lake takes us past imposing Ishpa Mountain (2530 m). We enter a short section of the Cariboo River at the end of Lanezi. This 1.2 km stretch of river brings us to Sandy Lake. Just before Sandy Lake are mineral deposits which attract animals. Sandy Lake is as the name implies. Shallow water and sandy beaches make it an ideal spot to take a dip. At the end of Sandy Lake we once again enter the Cariboo River for 4 km. Our campsite is Unna Lake. The vegetation is unique here, as it lies in a rain-shadow area, and as a result, is much drier than surrounding areas. After setting up camp, we will paddle to the south end of the lake and then hike 1.5 km to spectacular Cariboo Falls.

Day 8

To Pat Point, Spectable Lake

You will have become aware of the change from the high mountains and ridges of Isaac and Lanezi to a more undulating topography. We have to portage our canoes to Babcock Lake. Babcock Lake is an ideal location to observe moose, who enjoy the lush vegetation along its shoreline. A short (very) portage (400 m) will bring us to Skoi Lake. No sooner do we put in, than we begin another short (very) and final portage (400 m) to Spectacle Lake. Our campsite is Pat Point.

Day 9

To Bowron Lake and drive into Quesnel

This is our last day on the circuit. We will leave early in the morning in the hopes of completing our paddle by mid-afternoon. Our paddle will take us past Pavich Island, once named Deadman's Island, as it was believed that many Takullis died here from small pox. At the end of Swan Lake we will enter the Bowron River for 4 km. The Bowron River estuary is a prime bird area. There is an immense variety of bird life found here. The Bowron River empties into Bowron Lake and the last lake in the circuit. Our hope is that we will have sufficient time to visit Barkerville, restored historical center of the Cariboo Gold Rush. We will stay in Quesnel or Williams Lake for the evening.

Day 10

To Vancouver

We will return you to Vancouver, arriving in the late afternoon or evening.
inclusions and exclusions at a glance
Whats included in this tour
Items that are covered in the cost of tour price.
Transportation from the point of origin and return
Cabin (or camping) at Bear Mercantile
Accommodation in Quesnel or Williams Lake on the return
Canoes and paddling gear (pfd, paddle, gumboots, etc.)
Canoe cart
Canoeing dry pack (portage pack) and dry bags
Snacks/beverages on the expedition
All meals while on the canoeing portion**
Meal preparation
Camping fees
Exceptional guides for the entire journey
Cooking gear/camp stoves/water filtration
Tents & tarps
Emergency radio/satellite phone/major first aid supplies
We can provide sleeping bags & sleeping pads for rent
**You will be responsible for food you may want on travel days
What's not included in this tour
Items that are NOT covered in the cost of tour price.
Transportation to point of origin, transfers, personal equipment, accommodation and food other than included in the itinerary.
Gratuities are not included. Our guides make every effort to ensure your holiday is all you expected and more. Recognition of a job well done is always appreciated; $10-20/day per guide is recommended.
Getting to the pickup location
Vancouver Many of the major North American carriers fly into Vancouver or alternately, Seattle. Check with your travel agent for options. There is a bus service, Quick Shuttle , from Seattle's airport to hotels in Vancouver. These run daily and are reasonably priced. For more information, in North America, phone 1/800/665-2122 or 1/604/940-4428 – Fax 1/604/940-4429. Check the link regarding shuttles and other airport information.
Places to stay and other details
North Vancouver North Vancouver Pick up & Hotels
It is difficult to recommend accommodation as needs and price considerations vary. Tourism British Columbia can help you locate the accommodation that best suits your needs. In North America phone, 1-800-HELLO BC. Outside North America phone, 1-250-387-1642 or visit www.HELLOBC.com/
We do recommend that accommodation be selected in North Vancouver. We have suggested 3 inns which are easy to access from downtown Vancouver and are also an excellent pick-up point for your guides. We will only pick up from these three locations. If you stay at another accommodation, you will be responsible to get to one of these pick up locations.

1) SureStay Hotel by Best Western North Vancouver Capilano
www.bestwesterncapilano.com or +1 (604) 987-8185

2) Econo Lodge Inn & Suites
www.choicehotels.com or +1 (604) 337-8393

3) North Vancouver Hotel
www.northvanhotel.com or +1 (604) 987-4461

You don't need to have paddled before. Experience helps, but we will show you everything you need along the way. Our guides will assist you and teach you basic paddling skills.
In Canada, where are there NOT bugs? Fortunately, we are not deep in the forest or muskeg, where the mosquitoes and/or blackflies cover you like a blanket. Typically, if there is a breeze, there are no bugs. If it is calm, there are bugs. On the actual west coast, there are relatively few mosquitos and no-seeums, but some. It is helpful to have a bug net for your head and some bug spray with you.
There is never an intention for you to flip and get soaked, but sometimes it happens. We provide you with dry bags for your clothing and gear. We also show you how to properly use them to make sure your things stay dry.
Tips, or gratuities, are not mandatory. However, please consider what service is actually being given to you. While you might think that the company should just pay the guides better, it is not so simple. We do work in a competitive market, and pay rates are a function of the trip prices. If we could double prices, we would pay guides significantly better. At Sea to Sky, we have some of the better pay rates in the industry, and we are always pushing our competitors to increase pay rates for guides, but there is only so much we can do. Guides are seasonal workers. They shift off of their summer season to winter activities, or fill in with retail work, which is usually little more than minimum wage, often to periods of no work between seasonal jobs. It is a hard job, and wearing on the body.

The guides carry most of the group gear, so they have heavier loads than you have, all for you, because they would not be carrying much of the extras on a personal trip. Your guides are teaching you, helping you through challenges, cooking for you and serving you your meals, providing a safety envelope for you, and if you have a really good guide, they are filling you up with a deeper experience of being in the place you are visiting by telling you about the flora, fauna and history of the place.

So, how much should you tip your guides?

If you ate every meal out in a day, at a good, but low-cost restaurant, you would probably tip between $10 and $15 per day. If you were travelling and visiting a city and ate all your meals out, this is about how much you would tip for the day, low end. I would submit that the guides are feeding you all three meals in a day, AND serving you in so many more ways. That makes $10-$15 a day a minimum consideration, really. 10% to 15% of a trip price has been another rule of thumb that has been used. If your trip price is $2000, then $200 to $300 split between the guides is reasonable, and falls within that standard. Like most humans, guides are motivated when they are recognized and valued.

Your circumstances matter. If you are a student and clearly struggled to put together the cost of the trip, or have other circumstances that limit your ability to tip, guides understand and honour your appreciation, no matter what the size. However, if you have a large income or high net worth and means, a small tip might be a slap in the face. If you have means and you clearly and vocally appreciated the guides and all they did, and then leave a $50 tip after a 7 to 9 day trip, that amount would probably be insulting. If you have a fairly large income or net worth, you likely spend it on higher end restaurants, and maybe higher cost wine, drinks or desserts. You might even give a $50 tip for a dinner meal out-for ONE meal, so just consider your ability to tip and the level of service you received over the whole trip.

The largest tip any of our guides has received from one person is $1,500.00 for a 9-day trip. This was highly unusual, and was because we went way out of the way to replace her boots in the middle of the trail because her boots were falling apart, and was on top of paying for the boots and the transport out to the trail. That was extraordinary service, and an extraordinary tip. On average, guides usually receive about $75 to $125 from each guest for each guide.

At Sea to Sky, we also split the tips between the lead and assistant guides, and proportionally with any drivers. We have a strong culture of teamwork and both the lead and assistant guides play essential roles for you, so we ensure both share equally in the tips for the trip. Tips are not shared or taken by owners and managers not on your trip, unless you send it separately and specify it is for service before or after a trip.
What should I wear? What clothes are suitable?