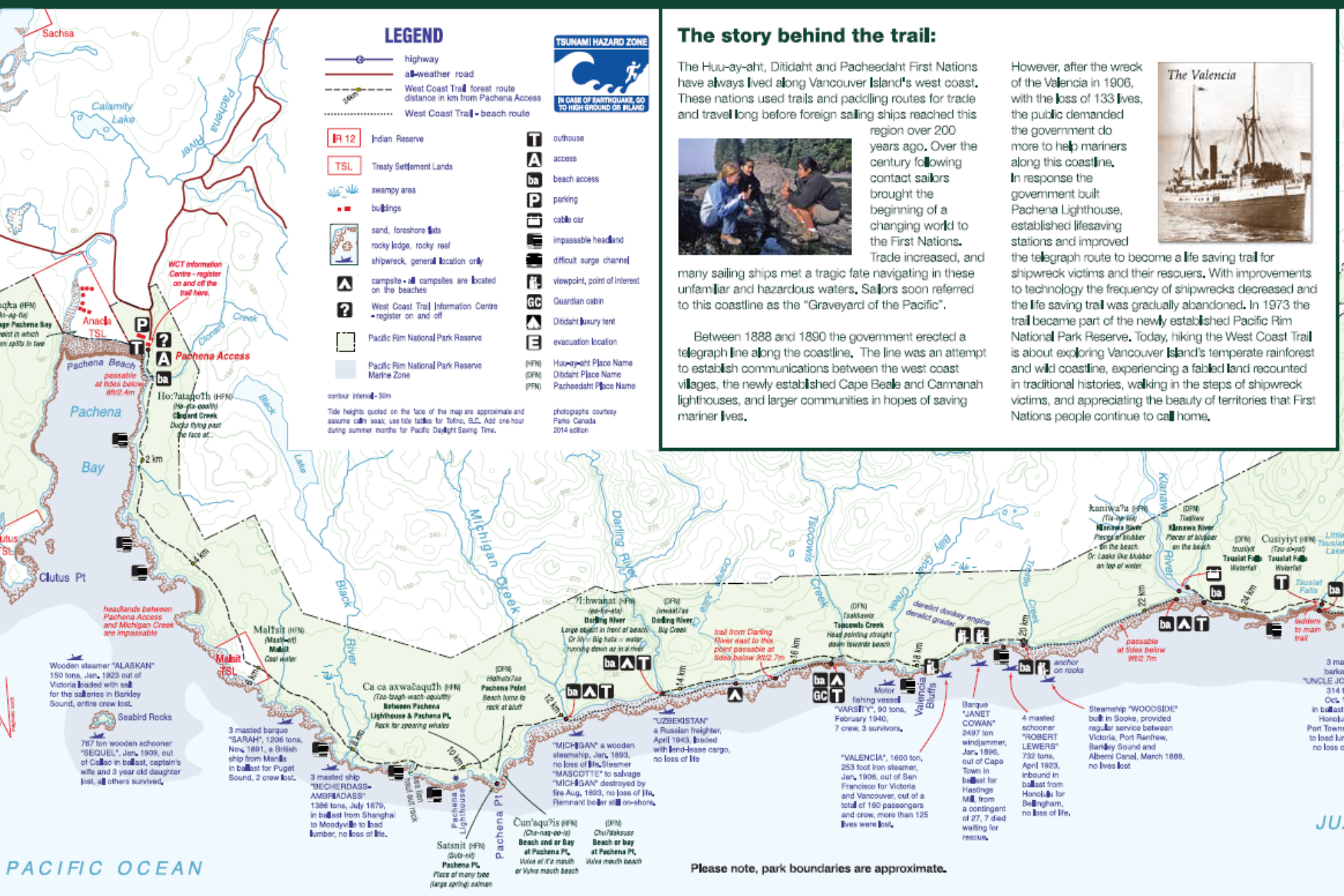 West Coast Trail
from CAD $2365
The West Coast Trail offers sandy beaches, rugged cliffs, blowholes, caverns, caves, waterfalls, bogs, rainforest, lighthouses, abandoned settlements, shipwreck relics, native culture, whales, sea lions, eagles, and giant trees. Our West Coast Trail itinerary includes stops to see historic and scenic wonders unknown to many hikers. Our pace allows time to adjust to the demands of the trail and to fully see and explore this magnificent Coastal Environment. Readings and anecdotal stories help the hiker fully appreciate the dramatic and colourful history of the events and people who were a part of this coastline. We have arranged a food drop for the half way point in our hike, thus reducing the weight carried by each hiker during each portion of the hike.
Activity Level

Quite Tough
Itinerary
Day 1

Pick up and travel to trailhead

Nanaimo, Vancouver Island Nanaimo is a good choice if you are looking for less travel time on the first and last day of the trip. Nanaimo acts as the link that "closes the loop" for our trip, it is the perfect pick up and drop off location. Also a good choice if you are planning to stay on Vancouver Island. **Pick UP** – The ferry from the mainland will land around 10am. The Guide team will do a first pick up at the ferry terminal at 10:30am, followed by a Nanaimo hotel pick up between 10:30-11am. The ferry crossing from Horseshoe Bay to Departure Bay on Vancouver Island is approximately 1.5 hours. We are on our way to a mandatory Parks Canada Orientation which everyone must attend in order to do the WCT. From Departure Bay, it is about two and a half hours to Port Renfrew. After registering at the trailhead office, we will stay in Port Renfrew. We will be camping on the beach and learning how to set up our tents for the first time. Your guide team will then take the time to do a final 'pack check' with everyone to ensure that you have everything you need (but also not too much of what you think you need!). The time will be used to get to know our traveling companions and discuss the trail ahead.

Day 2

To Thrasher Cove

We will return to the West Coast Trail registration office and be transported across the Gordon River by boat to the trailhead. Our destination is Thrasher Cove. Although just 6 km away, the terrain is such, that it will take us most of the day. There are no scenic rewards other than those provided by the forest, creeks and occasional waterfall. You will sample your first set of ladders and see a donkey machine.Thrasher Cove presents your first opportunity to enjoy beach camping. Although a small cove, it provides water and an excellent view of Port San Juan and Port Renfrew across the water.

Day 3

To Camper Bay

The morning tide will determine whether we will follow the beach to Owen Point or return to the trail. The beach hike, although characterized by huge boulders, is easier and shorter than the trail. The shelf near Owen Point has sandstone bluffs, caves and caverns, unusual rock formations and surge channels. Many hikers believe it resembles a moonscape. We will eventually leave the shelf because of impassable headlands and sample the beauty and denseness of a west coast rain forest. Camper Bay is our destination. The campsite is located by a creek and flanked by magnificent sandstone bluffs.

Day 4

To Walbran

Our day will once again be spent in rain forest. Although this is a difficult and usually muddy section of the trail, it offers an opportunity to really appreciate the lush, vibrant beauty of a rain forest. Or we may be lucky enough to traverse one more amazing sandstone shelf, tide willing, on our way to Sandstone Creek. At Sandstone and Cullite Creeks we will encounter another series of ladders. From Cullite Creek we will pass along a boardwalked bog that features some interesting flora, including stunted cousins of hemlock, spruce and cedar. At Logan creek we will cross the WCT's largest suspension bridge. Our campsite is Walbran Creek. We now leave behind the most difficult section of the trail and begin that section characterized by mostly beach and shelf hiking.

Day 5

To Cribs

Today will be a shorter, rest day. Primarily on the beach, this day's hike will be a welcome change from the challenges of the forest. At Bonilla Point we will see the Carmanah Lighthouse in the distance. Today we will pass a special spot on the beach which was, until recently, the location of Chez Monique's. Sadly both Monique and her husband, Peter, have passed and the legendary food shack has been forced to close. Your guide will be happy to recall many tales from past visits with Monique who was well-known for her generous and gregarious nature. Her daughter Sandy and her family kept the oasis open one last year in 2018 to honour her parents. Next we will visit Carmanah Point Lighthouse; perched on top of the cliffs like a castle, Carmanah offers breath-taking views of the surrounding area. Below the lighthouse is a rock favoured by sea lions. Our camp tonight is the Cribs, the Cribs features a natural breakwater with many tide pools to explore.

Day 6

To Stanley

Depending on the tide, we will likely hike the "beach" again . This section of hard packed sand, imposing cliffs and some of the most unique and varied sandstone rock shelf formations makes for very enjoyable hiking. We will descend to a beautiful sandy beach near the Cheewhat River. After crossing the Cheewhat River we will re enter the rainforest (where you'll really notice the difference in the type of trail compared to the first three days) and finally make camp on Stanley Beach. Stanley Beach has some interesting features, including surge channel, abandoned house, blowhole, and honeycombed rocks.

Day 7

To Tsusiat Falls

The trail from Stanley Beach to the Nitinat Narrows is completely boardwalked. The Narrows, because of its depth and current, must be crossed by boat with the assistance of the local First Nations. Carl and his family have been operating the "Crab Shack" here for many years. We will stop here for a hearty breakfast (with the option for other treats from the Sea as well). We will also pick up the remainder of our food for our last part of the trail. The section of trail from the Narrows to Tsuquadra Beach is considered by many to have the most spectacular views. We will stop to explore the remnants of the Didadaht lodge from the turn of the century. Old lodge poles stand in solemn tribute to the memory of these hardy coastal people who once inhabited the site. Soon after leaving the lodge site we will arrive at Hole‑in‑the‑Wall, a wave worn hole cut into the rock at Tsusiat Point. An old Indian legend states that "… those who pass through Hole‑in‑the‑Wall have passed through Hole‑in‑ the‑Wall." Tsusiat Falls is just up the beach, is our campsite. Tsusiat Falls is considered by many to be one of the major highlights of the trail.

Day 8

To Michigan

From Tsusiat Falls we will hike to the Klanawa River and our last cable car crossing. We will follow the beach until Trestle Creek and then head into the forest. We will stop where the trail overlooks the shelf. In 1906 the S.S.Valencia went aground here in a violent storm. The battering waves eventually broke the ship apart and 126 passengers and crew lost their lives. This tragic event was the catalyst for creation of the Life Saving Trail which would later become the West Coast Trail. Returning to the trail we will cross two suspension bridges and our last ladder. We will eventually emerge from the forest at Tsocowis Creek. It is all beach and shelf to our campsite at Michigan Creek.

Day 9

To Trailhead and Drop off

With the exception of a visit to Pachena Lighthouse, our last day on the trail will be uneventful. From Michigan Creek the trail will be entirely through rainforest. The route follows an old supply road. It is considered the easiest section of the trail. The end of the trail is at Pachena Bay. We should be there by noon. We will drive to Port Alberni for lunch and then on to the Departure Bay ferry terminal in Nanaimo. We should arrive at the ferry terminal by late afternoon with the intent to catch the 5:55pm ferry back to Horseshoe Bay. A private charter will be waiting to take you back to the Accent Inn where you will likely arrive around 8:30pm.
inclusions and exclusions at a glance
Whats included in this tour
Items that are covered in the cost of tour price.
Transportation from the point of origin and return
Snacks/beverages on the expedition
All meals while on the backpacking portion**
Meal preparation
National Park Backcountry Camping and Permit fees
Trail ferry fees
Exceptional guides for entire journey
Cooking gear/camp stoves/water filtration
Tents & tarps
Emergency radio/satellite phone/major first aid supplies
We can provide sleeping bags, sleeping pads, backpacks, poles for rent
**You will be responsible for food you may want at the Nitinaht Crab Shack
Whats not included in this tour
Items that are NOT covered in the cost of tour price.
Transportation to point of origin, transfers, personal equipment, accommodation and food other than included in the itinerary.
National Park Entry Pass (although this can be purchased for a single park, a National Parks Discovery Pass, individual or family, meets this requirement. If you already have a NP Discovery Pass, you will need to bring it and present it.)
Gratuities are not included. Our guides make every effort to ensure your holiday is all you expected and more. Recognition of a job well done is always appreciated; $10-20/day per guide is recommended.
Getting to the pickup location
Vancouver Many of the major North American carriers fly into Vancouver or alternately, Seattle. Check with your travel agent for options. There is a bus service, Quick Shuttle , from Seattle's airport to hotels in Vancouver. These run daily and are reasonably priced. For more information, in North America, phone 1/800/665-2122 or 1/604/940-4428 – Fax 1/604/940-4429. Check the link regarding shuttles and other airport information.
Nanaimo Several bigger carriers fly into Nanaimo, usually after a change in Vancouver. Check with your travel agent for options that take you all the way to Nanaimo. Alternatively, the Horseshoe Bay ferry in West Vancouver sails to Departure Bay, Nanaimo. The Tsawwassen ferry terminal also has sailings to the Duke Point ferry terminal in Nanaimo.
Places to stay and other details
Nanaimo The following hotels are recommended accommodations and are pick up locations.
Naniamo Pick up & Hotels
Pick up: Departure Bay, Duke Point Ferry Terminal, or the following Accommodations:

Days Inn Harbour View Nanaimo
Address: 809 Island Hwy South, Nanaimo, British Columbia, Canada, V9R 5K1
Phone (250) 754-8171

Website: www.nanaimohotel.com
Best Western Dorchester Hotel
Address: 70 Church, Nanaimo, British Columbia, Canada, V9R 5H4
Phone: (250) 754-6835
Website: www.dorchesternanaimo.com

Painted Turtle Guesthouse
Address: 121 Bastion Street, Nanaimo, British Columbia CANADA, V9R 3A2
Toll Free: 1-866-309-4432
Phone: (250) 753-4432

This is a rugged hike for some portions. The best boots for this kind of backpacking are solid-able to take rough talus slopes, water proof, and with a full, stiff shank for ankle support. If you get new boots, it is important to break them in before your trip to ensure that they are comfortable and to minimize the risk of blisters. It is also a good idea to bring a pair of comfortable sandals or water shoes for wearing around camp and for crossing streams or other bodies of water.
For a multiday backpacking trip in varied terrain, you will want a backpack with a capacity of at least 65-85 liters, depending on the size of your gear and the type of trip you are taking.
Some key features to look for in a backpack for this type of trip include:
Comfort: Look for a backpack with a comfortable and well-padded hip belt and shoulder straps, as well as a good ventilation system to prevent your back from getting too hot and sweaty.
Durability: Choose a backpack made from strong and durable materials, such as ripstop nylon, to withstand the rigors of the trail.
Weather resistance: Consider a backpack with a waterproof or water-resistant cover or built-in rain cover to protect your gear from the elements.
Load-carrying ability: Look for a backpack with a sturdy frame and good load-carrying capacity to support the weight of your gear.
Organization: Choose a backpack with plenty of pockets, compartments, and attachment points to help you keep your gear organized and easily accessible.
Size: Make sure the backpack fits you well and is the right size for your body and your gear.
It is also a good idea to try on a few different backpacks and load them with weight to get a feel for how they carry before making your final decision.
Hiking poles can be a helpful tool for a rugged backpacking trip, as they can provide additional support and stability on rough or uneven terrain. They can also help to reduce the impact on your joints and muscles by distributing some of the load to your upper body.
However, whether or not to use hiking poles is ultimately a personal decision, and it may depend on factors such as your physical abilities, the terrain you will be hiking on, and your personal preference. Some people find that hiking poles help them to maintain balance and reduce fatigue, while others prefer to hike without them.
If you do decide to use hiking poles, it is important to choose a pair that is comfortable, lightweight, and adjustable to your height. It is also a good idea to practice using them before your trip to get a feel for how they work and to ensure that you are using them correctly.
Tips, or gratuities, are not mandatory. However, please consider what service is actually being given to you. While you might think that the company should just pay the guides better, it is not so simple. We do work in a competitive market, and pay rates are a function of the trip prices. If we could double prices, we would pay guides significantly better. At Sea to Sky, we have some of the better pay rates in the industry, and we are always pushing our competitors to increase pay rates for guides, but there is only so much we can do. Guides are seasonal workers. They shift off of their summer season to winter activities, or fill in with retail work, which is usually little more than minimum wage, often to periods of no work between seasonal jobs. It is a hard job, and wearing on the body.

The guides carry most of the group gear, so they have heavier loads than you have, all for you, because they would not be carrying much of the extras on a personal trip. Your guides are teaching you, helping you through challenges, cooking for you and serving you your meals, providing a safety envelope for you, and if you have a really good guide, they are filling you up with a deeper experience of being in the place you are visiting by telling you about the flora, fauna and history of the place.

So, how much should you tip your guides?

If you ate every meal out in a day, at a good, but low-cost restaurant, you would probably tip between $10 and $15 per day. If you were travelling and visiting a city and ate all your meals out, this is about how much you would tip for the day, low end. I would submit that the guides are feeding you all three meals in a day, AND serving you in so many more ways. That makes $10-$15 a day a minimum consideration, really. 10% to 15% of a trip price has been another rule of thumb that has been used. If your trip price is $2000, then $200 to $300 split between the guides is reasonable, and falls within that standard. Like most humans, guides are motivated when they are recognized and valued.

Your circumstances matter. If you are a student and clearly struggled to put together the cost of the trip, or have other circumstances that limit your ability to tip, guides understand and honour your appreciation, no matter what the size. However, if you have a large income or high net worth and means, a small tip might be a slap in the face. If you have means and you clearly and vocally appreciated the guides and all they did, and then leave a $50 tip after a 7 to 9 day trip, that amount would probably be insulting. If you have a fairly large income or net worth, you likely spend it on higher end restaurants, and maybe higher cost wine, drinks or desserts. You might even give a $50 tip for a dinner meal out-for ONE meal, so just consider your ability to tip and the level of service you received over the whole trip.

The largest tip any of our guides has received from one person is $1,500.00 for a 9-day trip. This was highly unusual, and was because we went way out of the way to replace her boots in the middle of the trail because her boots were falling apart, and was on top of paying for the boots and the transport out to the trail. That was extraordinary service, and an extraordinary tip. On average, guides usually receive about $75 to $125 from each guest for each guide.

At Sea to Sky, we also split the tips between the lead and assistant guides, and proportionally with any drivers. We have a strong culture of teamwork and both the lead and assistant guides play essential roles for you, so we ensure both share equally in the tips for the trip. Tips are not shared or taken by owners and managers not on your trip, unless you send it separately and specify it is for service before or after a trip.
What should I wear? What clothes are suitable?